Not all wedding have to break the bank! It's 100% possible to have a cheap wedding for under $1,000. How can I be so certain? I'm proof! Having a frugal wedding is nothing to be ashamed of.
Labeling your cheap wedding as that doesn't take anything away from your big day. In fact, it's something that you should be proud of! Why would you spend to spend thousands upon thousands of dollars to start your life off with your spouse in debt?
Don't you know that finances are one of the biggest reasons that couples fight? So, the added stress of paying for your lavish wedding for the next 10 years down the road doesn't exactly feel all sunshine and roses…
The good news, you can absolutely have a wedding that looks amazing, feels amazing and is awesome to your budget as well. Call it a cheap wedding, an expensive wedding or just a wedding on a budget…but the bottom line is this:
Thinking outside the box will make your wedding more special (and affordable) than you ever thought possible.
Exciting right? Are you ready to learn how I had a cheap wedding and how you can too?
I'm living proof that you can have a wedding for less than $1,000. Now, I won't lie and tell you I did it on my own…that's ridiculous. I had an army of wonderful women, and a few men, that helped me out in accomplishing this goal.
I'm so proud to say that I got married frugally and started our life together out with no debt or bills from our wedding. Here are some tips on how you can accomplish that as well.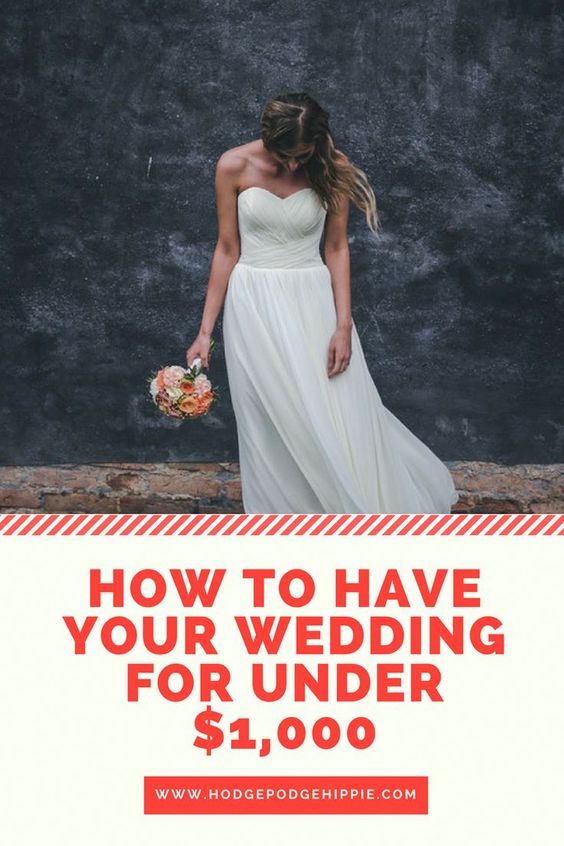 Why it makes sense to have a frugal wedding
I'm a bit different than the majority of my friends. I'm unique in the fact that I don't like debt. At all. I also believe that getting married to the love of your life doesn't mean that you should have to start off your life in debt either.
Why add that extra stress on your marriage right from the getgo?
Frugal weddings make sense. Everything about them does. The whole point of the day is to focus on the love that you have for one another, not on the price tag that you're spending. This means that you have the ability to get married for less than $1000 easily if you just put on your thinking cap.
Call it a frugal wedding, a cheap wedding, a discount wedding, or anything else that you can think of…but what I call it is a "smart wedding".
How to Have a Cheap Wedding for Under $1,000
Before moving forward- let's talk about the word "cheap". In my world, it's not a bad word. At all.
Find cheap wedding venues for under $1000
This is possible. Think town halls, church basements, local and state parks…the list could go on. All of these places allow weddings and none of them will break the bank. In fact, you'll have a wedding venue for less than $1000 easily. You might even find a wedding venue for less than $500. It's just that simple.
Seriously, just google "cheap wedding venues near me" and see what happens. You'll be surprised by the number of results that will pop up. Inexpensive wedding locations exist, you just have to put in the effort.
Shop for cheap wedding dresses
If you look for an inexpensive wedding dress, you will find it. Trust me. My secret to saving some major money? I bought my wedding dress at a wedding store that was closing. While this was awesome for me…not so good for them. BUT, my dream dress? Was on sale for $99. Wham, bam, HUGE savings. AND, I got the shoes to match for $49. So, my entire wedding wardrobe was ready to go for $150.
And I get it, this may not be a reality for everyone….but if you search hard enough, you can find cheap wedding dresses with ease. Try these tips to find a discount wedding dress:
Search online for your wedding dress
Research dresses on Amazon (yes, seriously – Amazon sells wedding dresses)
Wait for the sales to happen because they always do
Last but not least, why not talk to someone about borrowing or using their wedding dress lying around? All brides are supposed to have someone borrowed, right? Repurposing wedding gowns is actually a pretty cool vintage idea that can save a ton of money.
Find small intimate wedding venues
If you look hard enough and ask around, there are actually quite a few small wedding venues that are more than willing to host your wedding. Places to check for small intimate wedding venues include:
Local churches – many actually just charge a "tip" on what you want to pay
Outdoor parks – contact your local city office to see options
City Hall – it may not be a lavish choice, but it's a way to get married on the cheap
See about having an Airbnb wedding venue – you can rent out houses with beautiful backyards for cheap!
All of these venues can be really inexpensive wedding locations to have your big day!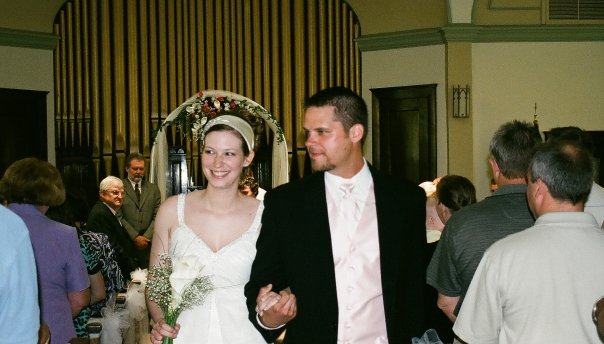 Let your wedding party choose their own wedding attire
Can I be the first to say that this is one of the best small unique wedding ideas, ever!
Why does every bride have her bridesmaids wear the same style of dress? Are females (or males) all built the same way? No, absolutely not. My bridesmaids were all over the board. Tall, short, busty…all 100% different. I knew one of two things was going to happen here. Either I was going to pick a dress that looked great on one and horrible on the rest, or I was going to be the type of bride that knew she just wanted her friends by her side, no matter what they wore.
So, what did I do? I told all my girls that the color of their dress needed to be black. Period. No certain length, no restrictions, NOTHING. And what girl doesn't have a little black dress just sitting in their closet? The result? They all looked stunning and comfortable and happy on the day of my wedding. My result? It cost me ABSOLUTELY nothing. Side note: We did the same for the groomsmen as well. Nice shirt and pants, that was it. Again, it cost us NOTHING.
And honestly, everyone that was a part of our big day was happy, confident and more than thrilled to not have to spend any money as well!
More posts that you might love and adore:
For the simplest wedding ever, make it a family affair
If you're really looking for how to plan a wedding on a budget of $1,000, you're going to need the help of your family and friends.
And to be honest…
My mom and her helpers saved me the most money at our wedding.
Her saving money ideas were genius, and I'm happy to share them with you.
For cheap wedding flowers, we picked a few that were in bloom outside and used them sparingly
If you're getting married in the Spring or Summer, just ask someone if you can pick a few flowers. It's a huge money saver, plus fresh flowers are quite beautiful. We even used those fresh flowers to make a simple corsage for me. Also, instead of buying bouquets of flowers, I had all my bridesmaids walk down the aisle holding onto one single rose. It was simple and stunning. (and cheap!)
If possible, make the dessert and food items yourself
My mom literally made over 200 cupcakes and decorated them all. PLUS, she made the cupcake stand by hand as well as the majority of the decorations. (Well, her and a few of her friends and my sister-in-law.) PS – They all totally rock and I'm forever grateful to all of them, but she was the ringleader in my crazy circus of a wedding.
For food items, we stayed with finger foods and went minimal. Why would we save a ton of money on our wedding only to spend it all on food for everyone else? (sounds a bit selfish saying it that way – but we were on a budget)
Places to find inexpensive finger foods?
Sams
Wal-Mart
Supermarkets in your area
We spent less than $150 on the finger foods that we offered for our guests, and we still had some leftovers! Buying bulk veggies and cutting them up yourself is a great way to save money. We also didn't have alcohol for our guests because we wanted to get it small, intimate and simple. And the best part? Due to our reception being small and alcohol-free, we were able to have it in the basement of the church we were married in.
How awesome is that?!
Get creative with your cheap wedding decorations
Did you know that most guests won't even notice your wedding decorations…Seriously. Most of the pressure is all in your mind. (We even FORGOT to lay out our aisle runner at our wedding and I didn't even realize it till about 2 weeks after we were married…#weddingfail, but no one noticed or commented on how our wedding was ruined)
Making your own decorations is fun, and really simple to do. Thankfully, my mom and her friends made homemade bows and tied on the ends of the pews and we laid fresh flowers all around. Besides that, we didn't really do that much decorating!
One other way that we saved big bucks? I created our own wedding pamphlets to hand out as well. I made them online and ordered in bulk and it was super cheap, quick and simple.
Hire a family member to be your photographer
Can we all agree that photographers are EXPENSIVE? And rightfully so…it's hard to create and capture memories. BUT, it just wasn't in our budget to hire a professional photographer that would have cost more than our entire wedding. So instead, we opted for a family member to take our photos instead. It was actually really, really fun!
Since we knew her well, it was entirely casual and comfortable and we laughed around the entire time. It wasn't awkward and our photos turned out great!
Another idea to get some great wedding photos on the cheap? Let all your attendees know that your wedding is an active cell-phone zone wedding! Meaning that they are all your personal photographers as well. It's not possible for just one person to get all the amazing angles and pictures, but what if you had 50-100 people taking photos on their phones as well?
With how awesome cell phone cameras are, this can be a fun way to get some really cool shots that you can make a collage or photo album of with ease. And the good part? It's 100% free!
Trust your hair and makeup with a friend
I may not be the typical bride, but I honestly could have cared less about my hair and makeup. (those who know me…shocker, right?) So, when it came to the thought of spending hundreds on hair and makeup for myself and my bridesmaids…thanks, but no thanks.
Instead, one of my beautician friends offered to do our hair for a great price – and we had so much fun as well. (We might have even ordered in Casey's pizza and chowed down during this time, too)
For my makeup, a local Mary Kay person offered to let us use some of her makeup as well, so we had a blast primping with a wide variety of options.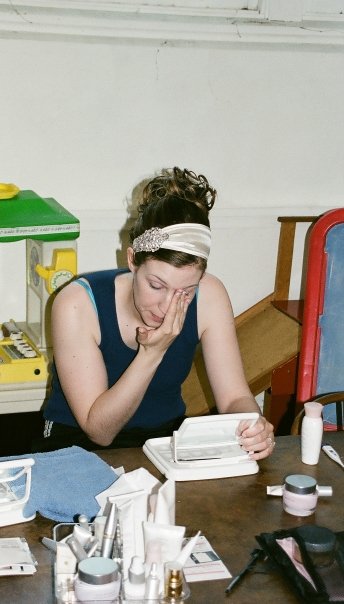 Final thoughts on how to make a cheap wedding look expensive
Overall, I feel that our wedding didn't look "cheap" at all. I was proud of the fact that we had a "homemade" wedding with the help of all our family and friends…and it was a wonderful way to spend on the day because we weren't stressing out about costs and everything being perfect.
Looking back on our wedding day, our biggest costs were the tuxedo rental, an awesome wedding headpiece that I COULDN'T say no to, my dress and my shoes. There were other costs scattered throughout, but those were the main meat and potatoes.
I'm proud that we had the simplest wedding ever
Our cheap wedding couldn't have happened so frugally if it weren't for our family and friends really stepping in and helping out. While I get the importance of having a wedding of your dreams, I also find it hard to wrap my mind around the fact that you are setting yourself up for debt for many years to come for a few hours of your wedding. I've known people who spent so much money on their wedding that they hadn't even paid it off by their 5 year anniversary! Talk about the gift that keeps on giving.
If you keep your wants and plans simple, it is possible to have a frugal and simple wedding. There are so many ways to save money when planning your wedding…you just need to be open to the options. If you do, you'll watch your hard-earned money stay in your bank account!
My last piece of advice for having a cheap wedding?
When getting married, focus on each other and not the price tag. <3
Did you have a cheap wedding? I'd love to hear about how you made it happen!